Honoree
Donald S. Lukes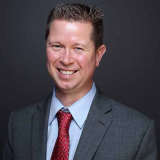 AWARDS
Bicentennial Medal (2019)
BIOGRAPHY
Donald S. Lukes is an IU alumnus and serves as the university treasurer and Treasurer for the Trustees for Indiana University. Lukes earned a B.S. in accounting and M.B.A. in finance and strategic management. He has served as the university treasurer since 2015.
As an undergraduate at IU Bloomington, Lukes was active in the Student Alumni Association, served as a volunteer income tax advisor, and was a member of Beta Alpha Psi. After graduating with his bachelor's degree he joined PricewaterhouseCoopers, LLP as an auditor (1997-2001). After a brief stint at Praxair Surface Technologies, Lukes then spent ten years at Citizens Energy Group serving in a variety of managerial roles. In 2014, Lukes returned to IU as the associate vice president and associate treasurer, and in 2015 he assumed the role of university treasurer and Treasurer of the Trustees.
During Lukes tenure as treasurer he helped complete the first Green Bond issuance for Indiana University, the first such issuance in the Big Ten and only the second for any public university in the country. Under Lukes' guidance, IU achieved a AAA bond rating from Standard and Poors in February 2016. He is also an active member in the community having served as president and treasurer of the King Park Area Development Corporation (2010-2014) and volunteered with the Indiana Sports Corporation, where he served on the local organizing committee for Big Ten basketball (2004-2016) and Super Bowl XLVI (2011-2012). He also serves on the board of the Bloomington Hospital Foundation. In recognition of his support of the Indiana Sports Corporation he was recognized as the Volunteer of the Year 2009-2010.
Lukes received the IU Bicentennial medal in September 2019 in recognition of his distinguished contributions to Indiana University as the university treasurer.