Honoree
Terry L. Allison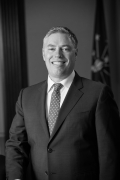 AWARDS
Bicentennial Medal (2019)
BIOGRAPHY
Terry L. Allison served as the fifth chancellor of IU South Bend from 2013-2018. Allison earned a B.A. in economics and political science and a Master of Library and Informational Sciences from the University of California Berkeley, an M.A. in comparative literature and Ph.D. in literature from UC San Diego.
Allison worked as a library assistant at UC Berkeley (1977-1983) and then as a librarian at the New York Public Library (1983-1986) and at UC San Diego (1986-1991). As one of its first thirty-five faculty members, he joined fledgling California State University San Marcos (1991-2006), where he was a faculty member in the library, chair and co-chair of women's studies, university planning officer, and interim vice president for administration and finance. From 2006 to 2010, Allison held the positions of dean of arts and letters and professor of English at California State University Los Angeles. In 2010 he became provost and professor of English at Governors State University in Illinois. In 2013, Allison was named the fifth chancellor of Indiana University South Bend.
During his tenure as chancellor of IUSB, Allison developed an academic master plan and campus strategic plan. Under his leadership the campus added several new majors and graduate programs, and completed major renovations of the Administration Building and Riverside Hall. He stewarded the campus through its Jubilee Year (2016-2017), which celebrated 100 years of offering classes, fifty years of awarding degrees, and twenty-five years since the founding of the Raclin School of the Arts. He also successfully ushered IUSB through its reaccreditation process in the fall of 2017. Allison resigned as chancellor at the end of the 2018 academic year, returning to a position within the faculty.
During his career he has served numerous professional and civic organizations. He served on the board of directors for the Federation of Gay Games and as co-chair of the archives committee. Allison served on the Complete the Degree College Leadership Council of Chicago; the Riley Children's Hospital Foundation, South Bend Regional Committee; LGBTQ Presidents in Higher Education; AASCU New Presidents' Academy Advisory Committee; and the North Central Indiana Regional Development Authority.
Allison received the IU Bicentennial Medal in September 2019 in recognition of his distinguished service as the fifth chancellor of IU South Bend.