Honoree
Jann L. Joseph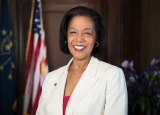 AWARDS
Bicentennial Medal (2019)
BIOGRAPHY
Jann L. Joseph is former professor of education and interim chancellor of IU South Bend. Joseph earned her B.S. and M.Phil. from the University of the West Indies at St. Augustine, and Ph.D. from the University of Wisconsin-Madison. Joseph served as the interim chancellor of IU South Bend from 2018-2019.
Joseph's career in higher education began as a graduate student in St. Augustine where she was a teaching assistant for various biology courses at the University of the West Indies. After she graduated in 1989, she began teaching with the Ministry of Education for the Government of Trinidad and Tobago, where she also served as Agricultural Science Department chair from 1990 to 1992. Upon completion of her Ph.D., Joseph received her first full-time faculty appointment at Grand Valley State University (MI), where she advanced through the ranks from assistant professor to professor in the department of biology - science education. At GVSU, Joseph served as an associate dean in the College of Liberal Arts and Sciences from 2006-2011, and then accepted an appointment as dean of the College of Education at Eastern Michigan University in Ypsilanti, MI. In 2014, Joseph accepted an appointment as executive vice chancellor for academic affairs at IU South Bend, and in 2018 she became interim chancellor of IUSB.
As executive vice chancellor at IUSB, Joseph was responsible for budget planning and development of long-term sustainable economic modeling that secured the viability of the campus operations. As interim chancellor, Joseph worked closely with the other IU regional campus chancellors to advance the goals of Blueprint 2.0, the bicentennial strategic plan for IU regional campus collaboration.
Joseph has served in several professional and civic organizations including: campus liaison for the Higher Learning Commission, chair of the Michigan Council of Deans of Colleges of Education, and executive board member of the Michigan Association for Colleges of Teacher Education. She has served as board member on the South Bend Regional Chamber of Commerce, board member of the St. Joseph County Historical Society, and as a volunteer with the Dress for Success project, American Heart Association, and many other organizations.
Joseph received the IU Bicentennial Medal in September 2019 in recognition of her distinguished service as interim chancellor of IU South Bend.