Honoree
Lester C. Lamon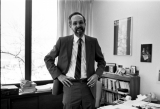 AWARDS
Bicentennial Medal (2019)
BIOGRAPHY
Lester C. Lamon is professor emeritus of history and former interim chancellor of IU South Bend. Lamon earned a B.A. and M.A.T. from Vanderbilt University and Ph.D. from the University of North Carolina. Lamon served as the interim chancellor of IUSB from 1995 to 1997.
Before beginning his Ph.D. from UNC, Lamon taught history and was the assistant basketball coach at Oak Ridge High School in Oak Ridge, TN, the first public school district integrated in the South in 1955. Upon completion of his Ph.D. in 1971, Lamon began his academic career as professor of history at IUSB. During his twenty-five year career at IUSB he served as dean of the Division of Arts & Sciences (1981-1989), vice chancellor for academic affairs (1989-1995, 1997-1998), and interim chancellor (1995-1997). He also served as the director of the Civil Rights Heritage Center (2000-2006). In 2000, he organized a Freedom Summer Tour Course in which students and community members retraced the routes of the Civil Rights Movement, met with Movement veterans, and studied the success and impact of the Movement. Lamon retired from IUSB as professor emeritus of history in 2006.
Lamon's research centered on civil rights history and related issues. He has authored three books and has published countless articles and reviews in and outside of the United States. He was instrumental in the development of the Oral History Project, a collaborative effort of the Civil Rights Heritage Center and the Northern Indiana Center for History. He has also been called upon to offer expert testimony in high profile cases for the NAACP and the ACLU.
Lamon has received several awards and recognitions both within and outside of IU. Lamon received the AMOCO Distinguished Teaching Award from IU in 1981 and the IUSB Student Government Outstanding Service to Students Award in 1996. He has received the prestigious Sagamore of the Wabash award (1997), the Martin Luther King Jr. Community Service Award (2001), the Merle Blue Humanitarian Award (2001), and the Northern Indiana Center for History Black History Award 92002). Lamon has been inducted into the South Bend Community Hall of Fame (2004).
Lamon received the IU Bicentennial Medal in September 2019 in recognition of his distinguished service as interim chancellor of IU South Bend.