Honoree
Ruth Person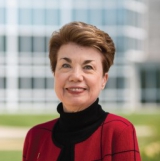 AWARDS
Bicentennial Medal (2019)
Honorary Degree (2016)

L.H.D.
Doctor of Humane Letters
IUK Honors Convocation
Location: Kokomo, Indiana
Presenter: Michael A. McRobbie

President's Medal for Excellence (2008)

Farewell Reception
Location: Kokomo, Indiana
Presenter: Michael A. McRobbie

BIOGRAPHY
Ruth Person earned a bachelor's degree in history and psychology from Gettysburg College in Pennsylvania, a master's degree in library science from the University of Michigan, a master's degree in administration from George Washington University, and a doctoral degree in management and library and information science from the University of Michigan.
Before her appointment at IU Kokomo in 1999, Person served for four years as the vice president for academic affairs and a professor of business administration at Angelo State University in San Angelo, Texas. As the fourth chancellor of Indiana University Kokomo, from 1999 to 2008, and then as the seventh chancellor of the Flint campus of the University of Michigan from 2008 to 2014, Person earned many significant honors. At UM Flint, Person not only was that campus's first female chancellor in its 53-year history, but she expanded academic offerings and increased the depth of student engagement.
She also led IU Kokomo during a period of substantial growth, spearheading several new bachelor's and master's programs, adding 14 academic curricula, navigating the accreditation process of the School of Business, the implementation of the ACCELerated Evening College, and the development of the Center for Teaching, Learning, and Assessment. During her chancellorship of IU Kokomo, resident full-time faculty increased by 25 percent, global diversity was expanded through increased international programming, and Greek life was introduced on campus. Person also focused on the creation of numerous classrooms, improvements to lecture halls, upgrades to classroom technology, and construction of Hunt Hall, the campus's award-winning science facility. These achievements all occurred during a period of challenging economic conditions for the region.
Person served as vice president for academic affairs at Ohio's Ashland University, associate vice chancellor for academic affairs at the University of Missouri - St. Louis, dean of the College of Library Science at Clarion University in Pennsylvania, and associate dean at the School of Library and Information Science at the Catholic University of America in Washington, D.C. As an American Council on Education Fellow, Person worked as chief academic officer with the Arizona Board of Regents.
She has shared her leadership expertise with numerous institutional governing bodies, serving as the president of the American Association of University Administrators and as a member of many influential boards of directors, including those of the Indiana Technology Partnership, the Old Crescent Insurance Company, the Gamma Phi Beta Foundation, the Kokomo - Howard County Public Library, the San Angelo Cultural Affairs Council, St. Joseph's Hospital in Kokomo, and the Flint Institute of Arts.
Person continued to be a steadfast supporter of IU Kokomo. Her gift of $3.5 million is the latest example of her devotion and commitment to the campus. In recognition of her many contributions to the university, she has received the Distinguished Hoosier Award and the Indiana University President's Medal. And, in 2016, Indiana University awarded her an Honorary Doctor of Humane Letters at its Honors Convocation.