Honoree
Douglas E. Bauder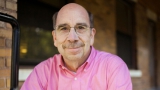 AWARDS
Bicentennial Medal (2019)
Distinguished Service Medal (2019)

Retirement Brunch for Doug Bauder's 25 Years of Service
Location: Bloomington, Indiana
Presenter: James Wimbush

BIOGRAPHY
Doug Bauder is the outgoing director of IU Bloomington's LGBTQ+ Culture Center, but the impact of his work extends far beyond the center to students and others across the university and the Bloomington community.
In his 25 years as an advocate for the LGBTQ+ community on the Indiana University Bloomington campus, Bauder has been instrumental in creating a place of understanding, peace, and community.
Bauder grew up in Bethlehem, Pennsylvania, where his interests included religion, politics, and American history. He sang in his church choir, played clarinet in the high school band, served as a leader in youth organizations, and became active in local political groups. He paid his tuition at Moravian College by working in the local steel mills, ultimately graduating in 1971 with a degree in sociology.
Following his graduation, Bauder had the opportunity to attend Princeton Theological Seminary where he prepared for a career in ministry. He would later serve as a pastor in four separate congregations over a period of 17 years, while also training as a hospital chaplain.
Five years into his marriage, Bauder says he came to terms with being gay and, eventually, ended the union. As the father of two children, he continued to parent his children part-time while serving as a pastor and, later, working for the city of Madison, Wisconsin, as an administrator of a social service agency for gay men and lesbians.
Following a period as a single man, Bauder met the individual whom he would later marry: a professor at Indiana University named Marty Siegel.
Siegel invited Bauder to Bloomington in 1992 to share their life together. Bauder's first job in Bloomington was as a Habilitation Specialist at Stonebelt, an organization that provides services for developmentally disabled individuals.
In addition, Bauder worked part time as a hospital chaplain and as a volunteer with hospice.
Chosen as the first coordinator of the GLB Office (now the LGBTQ+ Culture Center) in 1994, Bauder has served the campus and the community in a variety of roles. This includes co-director of the Commission on Multicultural Understanding, a member of the Bloomington Human Rights Commission, and co-chair of Bloomington United. He also is involved in interfaith organizations, sings with the choir of the St. Thomas Lutheran Church, and is a founding member of the Quarryland Men's Chorus.
Bauder is the proud father of two grown children and six grandchildren. They are here this weekend to take part in the 25th Anniversary Celebration of the LGBTQ+ Culture Center.