Honoree
Abdul Farouk Ahmed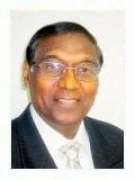 AWARDS
School of Education Distinguished Alumni Award (2013)

M.S. 1979, Ph.D.

IUAA President's Award (1999)

School of Education
M.S. 1979, Ph.D.

Thomas Hart Benton Mural Medallion (1997)

Alumni Reception
Location: Kuala Lumpur, Malaysia
Presenter: Myles Brand

BIOGRAPHY
Abdul Farouk Ahmed received a master's degree in Education from Indiana University in 1979, and a PhD in Human Development. He was awarded a doctorate of Business Administration by the Oxford Association of Management and he is a certified Corporate Strategist of the Cambridge Association of Management. Early in his career, Farouk served at the Ministry of Education where he was responsible for the development and implementation of programs to improve teacher performance in the area of science and mathematics education. As a team member of a UNESCO project, he helped produce multi-media self-instructional materials to creating a better learning environment in schools in ASEAN.
In 1985, Farouk accepted a position as the Managing Director of Hay Management Consultants Malaysia. He also worked as a Director of Personnel and Training for two large multinational companies, gaining extensive experience in Strategic Human Resource Management. He was responsible for a systematic analysis of corporate strategy and developing programs to effectively introduce change that improved human resource productivity and quality of working life. Farouk has also contributed to the instructional development process of the training school of Cathay Pacific Airlines in Hong Kong.
In 1993, Farouk became the Managing Director of ICC Consultants. He was the lead consultant for several large assignments involving corporatization, and change management. He was the Client Manager for such organizations as Bank Negara, Sime Darby, Rothmans International, HICOM, PROTON, Resorts World, PETRONAS, KTM, MAS and Tenaga Nasional Berhad.
Farouk currently serves as the President of Indiana University's alumni club in Malaysia. He provides educational consulting services, counting the University of Malay, ministries of government and many large corporations, as his customers. He continues to assist IU in numerous ways, working regularly with the Office of International Programs.