Honoree
Claude T. Rich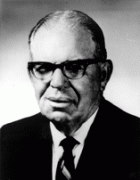 AWARDS
IUB Athletics Hall of Fame (1988)
Thomas Hart Benton Mural Medallion (1987)

Reception
Location: Indianapolis
Presenter: John W. Ryan

Distinguished Alumni Service Award (1977)

Indiana University Purdue University Indianapolis (IUPUI)
School of Dentistry
B.A., 1929

Z.G. Clevenger Award (1975)

B.A., 1929

School of Dentistry Distinguished Service Award (1974)

Indiana University Purdue University Indianapolis (IUPUI)
School of Dentistry
B.A., 1929

E. Ross Bartley Award (1974)

Location: Bloomington
Presenter: John W. Ryan

BIOGRAPHY
Claude Rich's life-long love and devotion to his Alma Mater are known world-wide; he has worked loyally in her interests for more than half a century working with five IU presidents and was known to more alumni on a first-name basis than any other person.
As a lively student leader, energetic young assistant alumni secretary and field representative, effective director of the Indiana Memorial Union, genial alumni secretary, and university relations director and legislative education consultant, Rich combined superb talents with plain, ordinary, hard work to make an outstanding contribution to the University. He built and solidified the allegiance of thousands of alumni, ultimately earning the Alumni Administration Award given only to the top one percent of alumni associations in the United States and Canada.
He gave remarkable service as a spokesman for the state-supported colleges of Indiana in its legislative halls. Mr. Rich was a personal friend and colleague of E. Ross Bartley and in Claude's own words, "We spent many hours arguing, planning, compromising, and conniving for the benefit of our Alma Mater." His service culminated with a major role in policy formation for Indiana University, and was a close confidant to a succession of her presidents. His mark of excellence is of such high caliber, it stands as an inspiration to all who serve the University.
Clade was football manager in 1928 and served as Assistant Alumni Secretary from 1929-43 and Alumni Secretary from 1948-68. He was the Director of University Relations from 1970-76, and the chairman of the committee that organized the IU Varsity Club in 1953. He is a recipient of Indiana University Distinguished Alumni Service Award and the Z.G. Clevenger Award from the I-Men's Association. Claude aided athletic department for years in fundraising and recruiting.