Honoree
David Fulton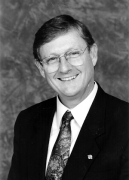 AWARDS
President's Medal for Excellence (2016)

IU East's 45th Commencement Ceremony
Presenter: Michael McRobbie

Thomas Hart Benton Mural Medallion (2007)

Retirement
Presenter: Adam Herbert

BIOGRAPHY
David Fulton was IU East's fourth chancellor from 1995-2007.
Fulton first joined Indiana University in 1966 when he began work toward a Ph.D. in East European History in Bloomington. He earned a Bachelor of Arts in History degree from Allegheny College in Pennsylvania. Immediately after, he traveled overseas to study political science at the University of Manchester in England. As a specialist in Balkan history, Fulton spent considerable time in Yugoslavia in the 1960s and held a Fulbright Fellowship in Zagreb, Yugoslavia in 1969-1970.
Fulton came to Richmond in 1971 as an instructor in history and political science before he was promoted to assistant professor of history and political science. During his tenure as assistant professor, Fulton took on administrative duties as assistant to Chancellor Alex Shilt for Campus Planning and Academic Development. He was later named director of Planning and Budget by then Chancellor Glenn Goerke. In 1988, he was named vice chancellor for Administrative Affairs and also served as acting chancellor in 1986-1987 and again in 1994-1995, prior to being named chancellor. Fulton was known for his efforts in weaving the university into the communities it serves by building community partnerships. During his time as chancellor, Fulton managed the construction of Springwood Hall in Richmond, the Danielson Learning Center in New Castle and the Connersville Center.
While chancellor, Fulton served the community as past president of the Starr-Gennett Foundation; Planning Group CEO Roundtable of the Richmond Wayne County Chamber of Commerce; Indiana University Foundation Development Committee; Boards of Historic Landmarks of Indiana; Greater Richmond Progress Committee, Chair of Task Force dealing with city master plan, performing arts center, and neighborhood development: 1997 Campaign Chair of United Way; United Way of Indiana Board member, serving as treasurer in 1987 and vice president in 1988; served as president of the United Way of Wayne County, Community Services Council, Social Services Planning Board; and board member Reid Hospital and Health Care Services from 2001-2004. Fulton was the recipient of numerous awards for community work and is a frequent speaker on current East European affairs as well as community and campus activities to local organizations.
Fulton remains active in the Richmond community as a member of the Board of Directors of Wayne Bank and Trust; Leadership Group Facilitator for the American Council on Education Fellows Program; Chair of the Steering Committee of the Countrywide Partnership for Youth, Wayne County; Member of the Mayor's Council on Economic Vitality and Chair of the Certified Technology Park Committee; and as the Treasurer of the Starr-Gennett Foundation Board.