Honoree
Dorothy J. Frapwell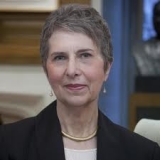 AWARDS
Bicentennial Medal (2019)
President's Medal for Excellence (2012)

Retirement Reception
Location: Bloomington, Indiana
Presenter: Michael A. McRobbie

Maurer School of Law Academy of Law Alumni Fellows (2012)

Indiana University Bloomington

Thomas Hart Benton Mural Medallion (1994)

Year End Review Meeting
Location: Bloomington, Indiana
Presenter: Thomas Ehrlich

BIOGRAPHY
Dorothy J. Frapwell joined the IU legal staff in 1975 as an associate university counsel. In 1990, she was named special counsel to the president and associate university counsel. In 1994, she was named university counsel, heading an office that includes six associate attorneys in Bloomington and Indianapolis.
Frapwell holds a Bachelor of Science degree from Pennsylvania State University and a juris doctorate from the IU School of Law-Bloomington.
She is currently serving on the Indiana Supreme Court Character and Fitness Committee and the IU School of Law Board of Visitors. She is a member of the National Association of College and University Attorneys and the Monroe County Bar Association. She serves as IU's Vice President and General Counsel.