Honoree
Edson W. Sample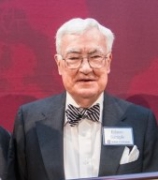 AWARDS
Bicentennial Medal (2020)
Presidents Circle Laurel Pin (2018)

Benefactor

School of Education Distinguished Alumni Award (2017)

Indiana University Bloomington
School of Education
M.S. 1971

Thomas Hart Benton Mural Medallion (1990)

Retirement reception for Edson Sample
Location: Bloomington
Presenter: Thomas Ehrlich

BIOGRAPHY
Edson W. Sample came to Indiana University in 1958 and started working in the Office of Scholarships and Financial Aids in 1961. Besides his work at that office, he also earned a Master of Science in higher education at the School of Education in 1971. After spending 29 years in the office, 22 of those as university director, he retired in 1990.
He is considered one of the founders of the National Association of Student Financial Aid Administrators, which now has an institutional membership of close to 3,000 and individual membership of 20,000 people. Sample served as its president from 1974 to 1975. He has received many honors and awards, including the national association's highest honor, the Lifetime Achievement Award. Although having been retired for 27 years, he remains active in professional activities, most recently hosting the president and past board chairman of the national association for a visit to Indiana University.
IU's Sample Gates, located between Franklin Hall and Bryan Hall, serve as a welcoming entryway for students into Indiana's beautiful 1,860-acre campus. The gates, constructed of Indiana limestone, mark the entrance to the Old Crescent, the site of IU's historic campus buildings built between 1884 and 1908. Edson Sample funded construction of the gates in 1987 and dedicated them to his parents, Louise Waite Sample and Kimsey Ownbey Sample Sr. In 2020, Sample was awarded Indiana University's Bicentennial Medal, in recognition of his distinguished contributions and longstanding support of the university.