Honoree
Emita B. Hill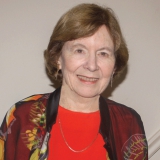 AWARDS
Honorary Degree (2019)

L.H.D.
Doctor of Humane Letters
Location: Kokomo
Presenter: Michael A. McRobbie

Bicentennial Medal (2019)
Thomas Hart Benton Mural Medallion (1994)

Year End Review Meeting
Location: Indianapolis
Presenter: Thomas Ehrlich

BIOGRAPHY
Emita B. Hill received a bachelor's degree from Cornell and a master's from Middlebury College in 1957 and 1958 respectively. She received her doctorate from Harvard University in 1967, and taught at Case Western Reserve University and Columbia University. She served more than two decades as an administrator and faculty member at Lehman College, the Bronx campus of the City University of New York.
Arriving at IU Kokomo in 1991, she was the first female chancellor of that campus, where she now holds the title chancellor emerita and professor emerita of romance languages. Hill helped develop the Enhancing Minority Attainment (EMA) Conference, to help both faculty and staff learn how to assist underrepresented groups attain access and success in postsecondary education. Destination: Education IUK (D: E) was another early intervention and scholarship program created during her tenure. From 1993-1999, the program grew from 18 participants to 125. Hill remained active as a mentor and as a fundraiser for scholarships for students who successfully completed the program and gained admission to IU Kokomo.
The Kokomo campus experienced significant growth under her leadership, including increased enrollment, new academic programs, and improved facilities, including the 1995 complex that houses the IU Kokomo Library, the Art Gallery, Kresge Auditorium, the Cole Community Room, and Alumni Hall. Hill assisted the university in becoming more of an nternational institution with the signing of five exchange agreements between overseas universities and the campus. Her global connections continued to flourish, including two ongoing projects through the Indiana Consortium for International Programs: one in Poland and one in Kyrgyzstan. A champion of women's issues, she serves as chair of the Education Awards Committee for the New York Women's Forum, an organization which assists high-potential women over the age of 35 whose education has been disrupted. She continues her scholarly publishing activities, which include her most recent book (co-edited with Janet Munch), Bronx Faces and Voices: Sixteen Stories of Courage and Community, and she has written extensively on French literature and thought in the Age of Enlightenment.
In 2019, Indiana University awarded Chancellor Emerita Emita Hill with an Honorary Doctor of Humane Letters at its spring commencement ceremony in Kokomo, Indiana, for her outstanding achievement in the arts and humanities, and for her ongoing community engagement and public service.
Hill received the IU Bicentennial Medal in September 2019 in recognition of her distinguished service as chancellor of IU Kokomo.