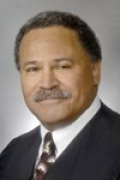 Awards
Distinguished Alumni Service Award (1973)
About Grant W. Hawkins
Grant William Hawkins was known for the qualities of quiet courage, energy, and an indomitable spirit. These qualities have characterized his every endeavor; in school, business, and community and public service.
His public responsibilities began with a position as Executive Secretary to Governor Paul McNutt, moving subsequently to a position as a member of the Indianapolis Board of School Commissioners, the Indianapolis Board of Public Works, and the Indiana Higher Education Commission. Hawkins served every one with integrity and conscientious regard for the people's good. He acquired and successfully managed several Indianapolis enterprises, yet still found time for membership on the boards of St. Meinrad's Academy, the Indianapolis Council of Boy Scouts of America, and the Metropolitan YMCA.
He was prominent in the organization of the Indiana University Men's Club and Varsity Club of Indianapolis, and also served on the University's Athletic Committee and the Advisory Committee for the Indianapolis Regional Campus.