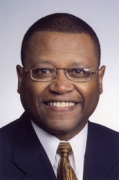 Awards
Bicentennial Medal (2019)
IU Kokomo Distinguished Service Award (2013)
IUAA President's Award (2006)
About Robert L. Hayes
Robert L. Hayes Sr., of Kokomo, is a product line purchasing leader at Delphi Electronics and Safety. He received a bachelor's degree in general studies degree at IU Kokomo in 1995.
Hayes serves as vice president of the IU Kokomo Alumni Association's board of directors and as co-chairman of its membership committee. He is the IUK representative to the IU Continuing Studies Alumni Association board of directors.
Hayes has taken an active part in several IUKAA programs including Relay for Life, IU vs. Purdue game-watching parties and the Old Ben 5K Run/Walk. He also has been featured in a video that touts IUK and its importance to the 11-county service region, and an IU basketball halftime show that focused on successful regional-campus alumni.