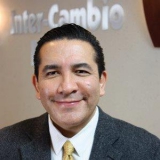 Awards
Distinguished Alumni Service Award (2019)
IU South Bend Distinguished Alumni Award (2014)
About Isaac Torres
A n accomplished accountant in Mexico, Isaac Torres ventured to the U.S. to pursue a graduate degree at IU South Bend. He intended to develop the language and management skills needed to succeed in a transnational corporation, but he had a transformative experience while a student at IUSB that changed the course of his life.
Like many Latin American immigrants, Torres frequently transferred money back to his family, a practice that makes up a large percentage of national GDP for many Latin and Central American countries. His encounter with wire transfers formed the basis for a class project that would result in InterCambio Express, now a multimillion-dollar financial services company. InterCambio provides cheap and efficient transfer rates for Hispanic foreign nationals.
A member of the IU Presidents Circle and a recipient of the IU South Bend Distinguished Alumni Award, Torres also serves as director of St. Joe CEO, a South Bend based non-profit entrepreneurship training organization offering for-credit coursework to St. Joseph County (Ind.) high school seniors. Additionally, he is a member of the Northern Indiana Hispanic Health Coalition, and serves on many philanthropic and educational boards, such as IU South Bend's Judd Leighton School of Business and Economics' Business Advisory Council.
As a "thank you" for the life-changing education he received at IU, Torres established the Isaac P. Torres Family School of Business and Economics Scholarship on the South Bend campus, which helps underrepresented students. "IU South Bend helped me achieve the American Dream," he says.