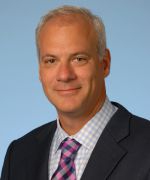 Awards
School of Medicine Early Career Achievement Award (2014)
About Daniel E. Rusyniak
Dr. Daniel Rusyniak is a Professor of Emergency Medicine and adjunct Professor of Pharmacology and Toxicology at the Indiana University School of Medicine, in addition to serving as an Medical Director of the Indiana Poison Center.
After graduating from Villanova University, he worked for Pharmaceutical Giant Hoffman La Roche designing assays for drugs-of-abuse. Dr. Rusyniak received his medical degree from the Bowman Gray School of Medicine at Wake Forest University and did his clinical training in the IU Emergency Medicine residency program followed by a fellowship in clinical toxicology. At the completion of his training in 2001, he joined the newly formed IU Academic Emergency Department.
Dr. Rusyniak serves as the Vice Chair for Faculty Development in the IU Department of Emergency Medicine where his work has focused on creating faculty development and leadership curriculum for EM faculty. In addition, he has served as the IU Medical Toxicology Fellowship director and is the current secretary-elect for the IU School of Medicine Faculty Steering Committee.
The focus of Dr. Rusyniak's research and educational efforts is on the toxicological effects of drugs of abuse and heavy metal intoxication. He has had numerous grants, including two NIH grants, focused on identifying the neural mechanisms underling amphetamine-related hyperthermia. In addition, he is a national expert in the management of heavy metal poisoned patients and has published numerous articles and textbook chapters on the topic including in the prestigious textbook Cecil's Medicine.
On the national level, Dr. Rusyniak has held several positions including board member and research committee chair for the American College of Medical Toxicology and faculty development chair for the Society for Academic Emergency Medicine. He is a reviewer for numerous journals and is an editor for the Journal of Medical Toxicology and the journal Temperature. He is also a co-host of a quarterly podcast on toxicology topics put out by the American College of Medical Toxicology.