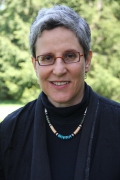 Awards
Bicentennial Medal (2020)
Thomas Ehrlich Civically Engaged Faculty Award (2018)
About Susan Hyatt
Dr. Susan Hyatt is a Professor of Anthropology in the School of Liberal Arts at Indiana University-Purdue University Indianapolis and an affiliate faculty member at the Lilly Family School of Philanthropy. After receiving an undergraduate degree from Grinnell College in 1976, she enrolled at the University of Michigan, completing a master's in 1980. Following this, she worked as a community organizer for eight years in Southwest Chicago, returning to academia to pursue a Ph.D. from the University of Massachusetts, a degree she completed in 1996. Dr. Hyatt accepted a faculty appointment from Temple University in 1996. She rose to the rank of Associate Professor and remained at the institution until 2004. She joined IUPUI's faculty in 2005 as an Associate Professor and was promoted to full Professor in 2016. During this time, she also was appointed as a Visiting Research Fellow at Durham University in the United Kingdom, holding the position from 2013 until 2017.
Dr. Hyatt's research focuses on a variety of topics, including urban anthropology, service learning, social movements, and the impact of incarceration and re-entry into the general population. She is the founder of the Indiana Chapter of Inside-Out, which aims to support educating incarcerated individuals. Dr. Hyatt has received numerous awards and grants for her work. These have included grants and fellowships from the Lilly Endowment, the United Kingdom's Economic and Social Research Council, and the Indianapolis Neighborhood Resource Center. Dr. Hyatt has been invited to present her research around the globe and has been published in several top journals in her field.
In 2020, Sue Hyatt was presented the Bicentennial Medal for her distinguished service to Indiana University.