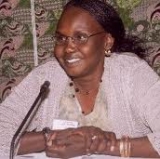 Awards
Fulbright Award (2005)

Africa-regional
About Julia Duany
As natives of Sudan, Julia Duany and her husband, a former minister of cabinet affairs of the Sudanese government, came to Bloomington in 1984 after fleeing from their homeland during a time of conflict. They both received degrees from Indiana University and remained present with their advocacy for independence of their native country. Duany received her B.S. in Social Studies in 1987, her. M.S. in International and Comparative Education in 1989, and her Ph.D. in Higher Education in 1999. She served as a research associate at the Vincent and Lin Ostrom Workshop in Political Theory and Policy Analysis at IU. While in Bloomington, Duany and her husband started South Sudanese Friends International to spread the word about Sudan's crisis.
In 2005 after northern and southern Sudan signed the Comprehensive Peace Agreement, Duany decided to return to South Sudan to join her husband who had already returned to help foster South Sudan towards their independence. She was appointed as the first female undersecretary of parliamentary affairs and chairperson of the recruitment board for the Ministry of Labour and Public Service. She founded the National Volunteer Program (NVP) in 2010, to encourage women to participate in the Referendum which increased women votes for independence in South Sudan. Duany also served as chief of party of the South Sudan Higher Education Initiative Leadership Development. In 2014 with a grant from United States Agency for International Development, Duany helped the IU School of Education start a program to enable fourteen South Sudanese women to earn master's degrees in the United States after an original plan to bring the School of Education to South Sudan was altered due to increased violence in the country.
Duany is currently a professor in the School of Education at Dr. John Garang Memorial University of Science and Technology in Bor, South Sudan and former vice chancellor. She also serves as the CEO and founder of the Gender Equity and Women Leadership Program in South Sudan. She served as a Fulbright Scholar at Makerere University in Kampala, Uganda in 2005. Duany is a recipient of the Dr. Martin Luther King Jr. Building Bridges Award for Faculty from IU in 2005 and the Refugee Women Leadership Award for Valuable Contributions to Refugees from the Women Commission for Refugees in 1995.