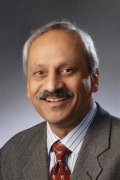 Awards
President's Medal for Excellence (2020)

School of Medicine Spring Meeting
Indianapolis, Indiana
Presenter: Michael A. McRobbie
About Anantha Shekhar
Anantha Shekhar completed his B.S. and M.D. at St. Joseph's College in Bagalore, India, and his Ph.D. in Medical Neurobiology at Indiana University (IU). He joined the IU School of Medicine for his Psychiatry Residency and was a Psychopharmacology Post-doctoral Fellow in Medical Neurobiology at the Institute of Psychiatric Research. Shekhar joined the IU faculty in 1989 and served as a professor in the departments of Psychiatry, Neurobiology, and Pharmacology. He was named the Raymond E. Houk Professor in 2003 and the August M. Watanabe Professor of Medical Research in 2015. For IU Health, he was the Executive Vice President of Academic Affairs for Clinical Research and a member of the Education and Research Board Committee and the Strategic Executive Planning Committee as well as Chair of the Innovation and Commercialization Committee. He was the founding director of the Clinical and Translational Sciences Institute (Indiana CTSI). Shekhar was IU Associate Vice President for University Clinical Affairs and the Executive Associate Dean for Research Affairs at the IU School of Medicine and was Principal Investigator of the IU Grand Challenges $120 million research program. He is the co-founder of Anagin, LLC.
Shekhar is "a leading researcher" in the mechanisms underlying neuropsychiatric disorders and the field of translational psychiatry; his "intellectual bandwidth" is "impressive," "stellar," and "innovative." Among the many "firsts" credited to Shekhar's "comprehensive and front-line research program" are: a clinically translatable animal model of panic disorder; this model demonstrated brain pathways responsible for the regulation of panic response. His lab was first to demonstrate the involvement of glutamate NMDA receptors in the regulation of panic responses and the first to demonstrate the role of angiotensin system in panic. Shekhar was the first to discover that orexin was a critical component in human panic attacks; this work led to efforts by pharmaceutical companies to develop treatments for anxiety and panic. Another first, Shekhar demonstrated that metabotropic glutamate receptor 2 agonists had profound anti-panic effects; this discovery spurred efforts to utilize glutamate receptor drugs in the treatment of anxiety and panic disorders. He was the first to report specific molecular mechanisms in the brain underlying autism symptoms that develop in children with a genetic condition known as Neurofibromatosis 1 and identified new therapies to treat children with autism. His lab was the first to discover that the interaction between two proteins known as post-synaptic density and neuronal nitric oxide synthase is critical for encoding fear memories within the brain and particularly critical for long-term potentiation in the amygdala, the region of the brain that regulates anxiety, fear, and mood; this led to treatments for PTSD, traumatic brain injury and chronic pain. Other areas of his work have developed "novel therapeutic agents" to treat severe psychiatric disorders; he published the seminal clinical study demonstrating schizophrenia patients can be treated successfully by utilizing selective muscarinic receptor ¼ agonists. "Professor Shekhar belongs to an exclusive group of neuroscientists who will continue to be amongst the top leaders in the field."
Shekhar is "a leader among scientific leaders" and his work has been supported by over $75 million in NIH funds, and more than $40 million in non-Federal grants, in addition to over $300 million in university, local, corporate, and philanthropic partnership initiatives. Shekhar has published over 200 scientific papers and reports in leading basic and clinical journals, including Nature Neuroscience, Nature Medicine, and the American Journal of Psychiatry. He is a member of the Board of Governors, Cures Acceleration Network (NIH), and Advisory Council at NCATS, NIH, and has served on the Board of Scientific Council (NIMH, NIH), and the CTSA consortium Steering Committee (NIH). He was President of the Society for Clinical and Translational Sciences and the Association for Clinical and Translational Science and has been a recipient of the prestigious FIRST award from NIMH, and the Nancy A. Roeske Award from the American Psychiatric Association.