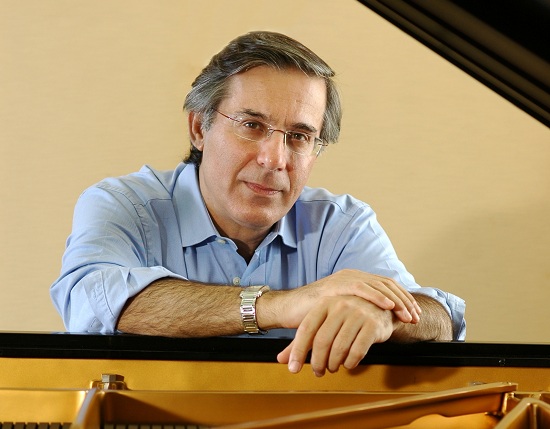 Awards
Distinguished Professor (2019)
Titled Professor (2006)

Rudy Professor of Piano
About Arnaldo Cohen
Arnaldo Cohen was born in Brazil and graduated from the Federal University of Rio de Janeiro, with an honors degree in both piano (1968) and violin (1969), while also studying for an engineering degree. He was a professional violinist in the Rio de Janeiro Opera House Orchestra while studying piano with Jacques Klein, a disciple of the legendary American pianist, William Kapell.
Mr. Cohen won several piano competitions, including the 1st prize in the Beethoven International Competition in 1970 and the 1st Prize at the 1972 Busoni International Competition, in Italy.
From his base in London, Mr. Cohen performed worldwide with orchestras such as the Cleveland Orchestra, the Philadelphia Orchestra, the Royal Philharmonic, Santa Cecilia Orchestra of Rome and the Los Angeles Philharmonic, collaborating with conductors Wolgang Sawallisch, Kurt Masur and Yehudi Menuhin (who described Cohen as "one of the greatest pianists I have ever heard.").
He has played over 1,500 recitals around the world and is a frequent recording artist, having released Cds on the BIS, Naxos and Vox labels. He has performed with many ensembles and was a member of the Amadeus Piano Trio, with former members of the legendary Amadeus Quartet (1987-1991).
Professor Cohen was admitted a Fellow of the Royal Northern College of Music (Honoris Causa) in 2000 and was the recipient of the Broadwood Fellowship (1992-2000). He is also the recipient of the "Rio Branco" Medal (2000) awarded by the President of Brazil for his contribution to the cultural development of his country.
Until 2004, Professor Cohen held a professorship at the Royal Academy of Music in London. He has been selected to serve on several international juries including the Chopin Piano Competition in Warsaw. He writes regularly about classical music for the Brazilian press.