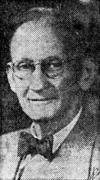 Awards
Distinguished Alumni Service Award (1958)
About Fred Bates Johnson
Fred Bates Johnson was born in 1880 to Benjamin Bates Johnson, an editor, and Clara C. Johnson, in Kokomo, Indiana. He attended Earlham College and Indiana University, from which he received his A.B. in 1902. After graduation, Johnson worked in Indianapolis as a reporter for the Indianapolis Sun (later named the Indianapolis Times). Next he worked for the Indianapolis News, becoming the highest paid senior reporter until 1907. Despite his early successes, Johnson was well aware of the riskiness involved with pursuing a career in journalism at the time, and took it upon himself to impress to then President of IU William Lowe Bryan that perhaps the University could benefit from a school of journalism, offering courses to train students and prepare them for the reporter's life. It was only fitting, then, that after Dr. Bryan accepted Johnson's suggestion that Johnson would be asked to return to IU and become the University's first professor of journalism.
The development of the new school was slow but steady, beginning with an "instruction in news gathering" course taught in the English department, with Bates eventually getting "The Course in Journalism" added to the University's curriculum for the 1907-1908 school year. It was then that the University published a suggested four-year liberal program as a preparation for journalism.
While teaching, Johnson took the opportunity to study law, and after receiving his LLB in 1910 and securing the School of Journalism's foundations, he returned to Indianapolis to practice law.
Johnson also served in the United States Army during the Mexican Border Campaign and enlisted as a private during World War I. He also served for a time as judge advocate of the 38th Infantry Division of Indiana National Guard.
Upon his return to Indianapolis, he was named to the Indiana Public Service Commission and specialized in utilities law until his retirement in 1951. He was also served a special counsel and attorney for the Indianapolis Times and was a member of the Indianapolis School Board between 1922 and 1926.
Johnson and his wife Priscilla had four children — Priscilla Bates, Gaar Williams, and Frank Wagner.
Johnson was also an avid reader and book collector, and in 1956 presented Indiana University his collection of first editions, manuscripts, and letters of Joseph Conrad. The collection was said to be one of the most complete collections of its kind in the world.
Additionally, Johnson established within the Department of English a prize designed to encourage students to develop an interest in book collecting, the Student Book Collector's Contest, which ran annually from 1939 to 1958.
In June 1959, he was awarded the Distinguished Service Alumni Award from IU. Fred Bates Johnson died April 2, 1963, at his home in Indianapolis. He was 83 years old.