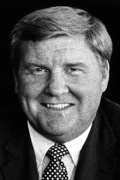 Awards
Distinguished Alumni Service Award (1977)
Kelley School of Business Academy of Alumni Fellows (1972)
About Karl D. Bays
Karl Dean Bays came from humble beginnings to Indiana University, as a highly motivated candidate for the master's degree in Business Administration; he balanced his academic studies with multiple jobs to support himself and his family.
Exemplifying the adage that human effort is the wealth of a nation, he eagerly entered the world of work, rising meteorically from novice salesman to the presidency of the American Hospital Supply Company and ultimately to the office of chief executive and chairman of its board of directors. The success of his corporation, evaluated by its steady growth and performance, can be attributed to his leadership and competence. As he progressed in his corporate responsibilities he maintained constant contact with his Alma Mater, drawing other Indiana University graduates into his company and encouraging their development. Sharing his great business expertise, he served as director, advisor or trustee for prestigious universities, and for his nation's government was accorded numerous awards from his peers as an outstanding businessman.
His accomplishments illustrate the benefits which can accrue to a dedicated and ethical individual, and to his society, in the favorable climate of free men in a free enterprise system.