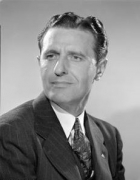 Awards
Distinguished Alumni Service Award (1973)
About Ruel W. Steele
Ruel Winton Steele distinguished himself in two careers; as a trial lawyer and a public servant. His two terms as Lawrence County Clerk prefaced his graduation with honor from IU's Indianapolis Law School, and efficiently met the demands of his post as Executive Secretary to Governor Ralph Bates.
Steele built a record of achievement in each public position he held; as Attorney for the Senate State Senator and Majority Leader, and Chairman and Executive Director of the State Highway Commission. One of the most visible symbols of his service is the improved highway access to Bloomington. Steele developed a major law practice, served often as a special judge, and earned an enviable reputation as a trial lawyer.
A natural leader, Steele presided over the Indiana University Law Alumni Association, Indiana County Clerks Association, the Lawrence County Bar Association, the Bedford School board, the Bedford Junior Chamber of Commerce and the Bedford Boys Club.