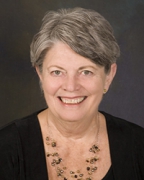 Awards
Thomas Ehrlich Civically Engaged Faculty Award (2002)
About Joyce S. Krothe
Dr. Joyce Splann Krothe is Professor at the Indiana University School of Nursing. She was named the Director of the Bloomington Campus in 1991 and Assistant Dean of Bloomington in 2006. She also serves as the Project Director for the Brown County Health Support Clinic, a nurse-managed clinic in rural Indiana. Her area of teaching expertise is community health nursing. She received her BSN degree from Columbia University (1962) and her MSN (1982) and DNS (1991) degrees from Indiana University.
She is active in a number of professional organizations and has made presentations and published artcicles related to utilization of a community development model to address issues related to access to health care for uninsured and under insured populations. Dr. Krothe spent a sabbatical leave at Massey University, New Zealand in 2000 and served as a consultant to faculty colleagues at the university to establish the first nurse managed clinic in the country. Collaborative research with Massey University related to outcomes of nurse managed services is ongoing through funding from an International Exchange Affiliation grant.
In 2000, she was recognized with the Indiana State Department of Health Year 2000 Distinguished Community Service Award for Rural Health at Local Level.