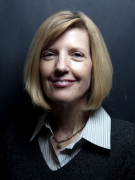 Awards
John W. Ryan Award for Distinguished Contributions to International Programs and Studies (2012)
President's Award for Distinguished Teaching (2011)
About Heidi A. Ross
Heidi A. Ross received her M.A. in Education and Applied Linguistics in 1978, and her Ph.D. in Educational Foundations and Policy Administration from the University of Michigan in 1987. She was a Professor of social foundations, and comparative and international education courses in the Educational Policy Studies program at Indiana University School of Education in Bloomington. Ross was also the Director of I.U.'s East Asian Studies Center.
Ross' research focused primarily on gender socialization, secondary schooling, environmental education in Chinese schools, and the difficulties faced by China's University faculty as they experience an unprecedented demand for higher education. Ross was also involved in a field study based on educational access for girls in rural China, and a collaborative field study with I.U. colleagues called "Developing National Student Engagement Surveys for Chinese Secondary and Higher Education: Effective Practice for an Era of Mass Schooling."
Professor Ross was a regular co-presenter and author on conference papers and graduate student articles. She partnered with the University of Illinois to establish the Indiana/Illinois East Asian Education Network Dissertation Workshop where doctoral students can get feedback and support on their research.