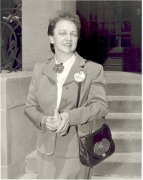 Awards
School of Medicine Distinguished Alumni Award (1982)
IUPUI Maynard K. Hine Medal (1975)
About Olga Bonke-Booher
Dr. Olga Bonke-Booher was a 1929 graduate of Butler University and a 1932 graduate of Indiana University School of Medicine; she was president of Zeta Tau Alpha, the Mortar Board and the Indianapolis Alumna chapters. Dr. Bonke-Booher and her husband, the late Dr. Norman Rogers Booher, had a private practice in Indianapolis until she retired in 1973.
Dr. Bonke-Booher was one of the first female chief residents in pediatrics at Riley Hospital for Children and had served there as head of the Children's Diabetes Clinic. She also had been a clinical associate professor of pediatrics at Indiana University School of Medicine and served as national president of Nu Sigma Phi. She was a member and diplomate with the American Board of Pediatrics, a fellow with the American Academy of Pediatrics and a member of the Indianapolis Medical, Indiana Medical and American Medical associations.
A member and past president of Zonta, she was named Zontian of the Year in 1987 and was honored as Woman of the Year in 1988 by Indianapolis Altrusa. Dr. Bonke-Booher also had served on the board of directors of Metropolitan YWCA and as Americanism chairwoman of the Indianapolis Council of Women.