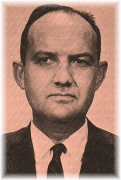 Awards
School of Dentistry Honorary Member Award (1973)
About David F. Mitchell
David F. Mitchell was a professor and department chair at Indiana University School of Dentistry from 1955 until his death in 1975.
Mitchell graduated from University of Illinois School of Dentistry in 1942 and entered the U.S. Army Dental Corps, which he ultimately became the chief of the Department of Dentistry, Research Laboratory at the Air Force School of Aviation from 1945 to 1946. Next, Mitchell went to the University of Rochester in New York for his Ph.D., where he was a Veteran Postgraduate Fellow (1946), NIDR Senior Research Fellow (1947) and Instructor in Dentistry (1948) at the School of Medicine and Dentistry. Mitchell was on the faculty of the University of Minnesota, serving as Chairman of the Divisions of Oral Histology and Pathology (1948--55), Oral Diagnosis (1949-56) and Periodontology (1949-51) before joining IU in 1955. At IU, Mitchell was the chair of the department of oral diagnosis and oral medicine. He was respected for his teaching, which led him to be awarded the Meritorious Award for Teaching at IU.
In the dental community, he was the editor of the Academy (1956-58), president of the American Board of Oral Pathology (1969), editor of the Journal of Dental Research (1969-75), and edited the Journal of the Indianapolis District Dental Society for six years. Mitchell also served as the president of the Cancer Coordinators and was a Fulbright Lecturer in Quito, Ecuador in 1963. Throughout his career, Mitchell published articles and books on dental research studies.