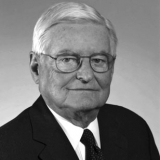 Awards
Z.G. Clevenger Award (2009)
IUAA President's Award (2008)
About Don W. Goelzer
Don W. Goelzer was born in Wisconsin and raised in Indianapolis. He graduated from Indiana University School of Business in 1950, before serving on active reserve status as Captain in the U.S Army. Goelzer began his investment career with City Securities Corporation in 1950; as a result of creating and successfully managing the firm's Corporate Trading Department, he was named a Vice President and Department Manager. His responsibilities and expertise grew to include all aspects of investment banking; structuring, pricing, underwriting municipal obligations, and corporate equity and debt issues as well as private placements.
In 1969, with a wealth of knowledge and almost 20 years of experience, Goelzer founded Goelzer Investment Management. The firm has since grown into one of Indiana's leading investment advisory and portfolio management firms. It provides comprehensive investment planning, advice, and portfolio management services to affluent individuals and families, and to institutional investors. Goelzer Investment Management is an SEC-registered investment advisor and broker-dealer based in Indianapolis, Indiana. Goelzer sits on the firm's Board of Directors as Founder and Chairman Emeritus, currently advising approximately 400 clients across 34 states and Europe.
For more than half a century, Goelzer has been actively engaged in the investment industry. He served the National Association of Securities Dealers as a district committee member from 1972 to 1974, and as an active member of the National security Traders Association, he was a founding director of its Indianapolis chapter. Past President and Director of the Indianapolis Stock & Bond Club, he chaired its Legislative Liaison Committee, and in 1993 he was honored as the Club's Man of the Year for his leadership and service to the securities industry. Goelzer was featured in the May 2002 edition of the Indianapolis Business Journal, in the publication's "Who's Who in Banking and Financial Services."
Numerous activities and endeavors within the community and financial industry have brought Goelzer many awards. In 2004 he was honored by his national fraternity, Sigma Chi, in recognition of his business career and investment industry achievements. Goelzer is a dedicated IU alumnus, serving as Chairman of the Investment Committee of the Indiana University Alumni Association since 1982. He is a past Executive Counsel Member of the Indiana University School of Business and the School of Business Alumni Association. In 2008 he was a recipient of the IUAA President's Award, and the next year he received the Z.G. Clevenger Award, presented by the "I-Association."