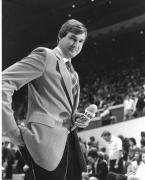 Awards
IUB Athletics Hall of Fame (2016)
IUAA President's Award (2016)
Z.G. Clevenger Award (2005)
About John Laskowski
John Laskowski was born in 1953 in South Bend, Indiana. He attended St. Joseph's High School before becoming a college student at Indiana University. As a 6'6'' shooting guard, John played basketball at IU from 1972-1975, averaging 10.8 points per game and 3.8 rebounds per game in three seasons, as his team's sixth man no less. He earned the nickname "super-sub." John Laskowski won basketball letters for the Hoosiers in 1973, 74 and 75.
Laskowski helped the Hoosiers win three straight Big Ten titles and advance to the Final Four in 1973, win the Collegiate Commissioners Association title in 1974 and post an undefeated regular season before finishing with a 35-1 record in 1975. With the Hoosiers firmly entrenched as the No. 1 team in the country, he became the first IU athlete to appear on the cover of Sports Illustrated on February 3, 1975.
After graduation, John was selected in the second round (32nd pick overall) in the 1975 NBA draft, by the Chicago Bulls. He played two seasons with the Bulls, averaging 7.1 points and 2.4 rebounds. Upon his retirement as a player, John worked as a television color commentator and play-by-play analyst for IU basketball games, and authored the book "Tales from the Hoosier Locker Room."
John was inducted into the Indiana Basketball Hall of Fame in 1999, and was a 2005 recipient of the Z.G. Clevenger Award.
Laskowski provided service to the IUAA (Indiana University Alumni Association) as vice president of marketing and membership for a total of nine years, ending in 2004 to work for Marsh Affinity Group Service, now known as Mercer.