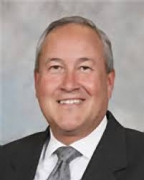 Awards
IU South Bend Distinguished Alumni Award (2010)
IUAA President's Award (2001)
School of Continuing Studies Distinguished Alumni Award (1999)
About Michael Wargo
Michael Wargo is the chief operations officer with the Foundation for the Center for Hospice and Palliative Care, Inc. He is also president of Wargo Enterprises, Inc.
Wargo graduated with an associate's degree in criminal justice in 1981 and a bachelor's degree in general studies in 1982, both from IU South Bend.
Active in the community, he has worked in banking, human resources, real estate development and teaching. He has been a longtime volunteer in hospice service. He became involved in the IU South Bend Alumni Association in 1989. He has served the university on advisor boards, executive councils, boards of directors, search committees and as a campaign chair. The Mike Wargo Distinguished Alumni Award, an IUSB award for recent graduates, is named after him due to his generous service to the campus. He also received the Distinguished Alumni Award sponsored by Indiana University School of Continuing
Studies, Indiana University South Bend and General Studies Alumni Association.