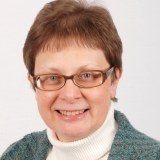 Awards
IUAA President's Award (2018)
IUPUI Spirit of Philanthropy Award (2017)
IUPU Columbus Distinguished Alumni Award (2010)
About Mary Ann Nunn
Mary Ann Nunn, a 1978 IUPUI graduate, is the Administrative Partner for the Larry E. Nunn and Associates accounting firm in Columbus, IN. She is an active participant in the local community. Currently, she serves on the Board of Advisors at IUPUC and the IUPUC Alumni Association Board.
Nunn has supported IUPUC, and IU, through her volunteerism on multiple boards and committees, and has secured gifts through her own personal wealth and professional associations.
Nunn has served multiple terms on the IUPUC Alumni Association Board, the IUPUC Board of Advisors, the IUPUC Division of Business Advisory Council, the IUAA Executive Council and IUPUC Diversity Circles. She has also invested countless hours mentoring students and spearheading discussions and alumni events for students.
She is the 2010 recipient of the IUPUC Distinguished Alumnus Award.