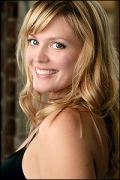 Awards
Grammy Award (2021)

Best Musical Theater Album
Performance: Jagged Little Pill
About Elizabeth C. Stanley
Elizabeth Stanley currently plays Dianne in the original Broadway company of "Million Dollar Quartet," a new musical inspired by an actual recording session with Johnny Cash, Jerry Lee Lewis, Carl Perkins, and Elvis Presley.
Also on Broadway, she has created the roles of Allison in the John Waters musical, "Cry-Baby," and April in the Tony Award-winning revival of "Company." Her TV credits include "Fringe," "The Chappelle Show," and "PBS Great Performances." This year, Elizabeth starred as Kira in the first national tour of "Xanadu." She has performed leading roles across the country, most recently as Constanze in "Amadeus" at the St. Louis Repertory Theatre (Kevin Kline nomination).
An Illinois native, Elizabeth is a 2001 a double major in voice and theatre and drama of the Indiana University School of Music. While at IU, she was an active member of the Singing Hoosiers (and Varsity Singers), as well as Broadway Cabaret. She was a soloist in Bernstein's "MASS" with IU's Opera Theatre, in addition to playing Cinderella in "Into the Woods" and Mabel in "The Pirates of Penzance" with the IU Theatre Department. Elizabeth also appeared in numerous student-produced productions.
To this day, she considers her best friends to be those she found at IU while rehearsing classic American songs in MA404. A very special group of women (numbering nine in total and adopting the nickname of "the Bees"), formed a lifelong bond over Hoagy Carmichael, white puffy dresses, jazz hands, pivot chords, music theory exams, and the Stardust that gleams in Bloomington, Indiana.