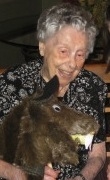 Awards
School of Education Distinguished Alumni Award (1983)
Gertrude Rich Award (1975)
About Helen Van Curen Blackledge
Helen and William Blackledge met while they were both students at Indiana University. After graduating in 1930, Helen applied for a teaching position in Indiana and was denied, due to her gender. So she and William accepted government jobs in the Philippines in order to start their teaching careers.
After Peal Harbor was attacked in 1941, William, a reservist in the US Army, was captured along with almost 80,000 others. They were marched off to a prison camp during the now infamous Bataan Death March; Helen and their two sons never saw him again. After surviving another prison camp, Helen and her children returned to Fort Wayne, Indiana, in 1945.
Helen began teaching in the Fort Wayne Community School System, and continued her own schooling at Columbia University, receiving a master's degree in 1951. She then served as principal at Price and Southern Heights schools, and was president of the Indiana State Teachers Association. After her retirement, in 1975, Helen was recognized for her participation in IU's alumni association. She was appointed director of the Professional Credit Union in 1983, and received "director emeritus" status in 1998.
August 24th, 2012, marked an important milestone in Helen's life, as she gathered with friends and family to celebrate her 105th birthday. When asked what her greatest achievement in life has been, Helen replied it was "helping parents understand their children better", an accomplishment clearly displayed throughout her years as a teacher.