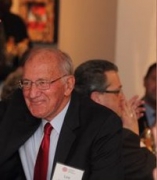 Awards
Kelley School of Business Academy of Alumni Fellows (1973)
About Leon T. Kendall
Leon T. Kendall earned his M.B.A. in 1950 and his D.B.A. in 1956 from Indiana University. He spent his career in finance, working at numerous companies and institutions.
First, he was an economist for the U.S. League of Savings Institutions, the Federal Reserve Bank of Atlanta, and the New York Stock Exchange. From 1964 to 1967, Kendall was the vice president of NYSE. Then, He served as the President of the Securities Industry Association in New York. In 1974, he joined MGIC.
Kendall was also a professor of finance at the Kellogg Graduate School of Management of Northwestern University in Chicago, which he joined in 1988. He retired as chairman from the Mortgage Guaranty Insurance Corp and as vice-chairman of its parent company, MGIC Investment Corp in 1989. He was appointed public director of Options Exchange in 1992. He served as a member of the board of directors of Asset Management Funds, a Chicago-based mutual fund corporation; was a member of the Regional Advisory Board (region 3) of the Resolution Trust Corporation; and sat on the boards of two publicly traded companies, Avatar Corp. and Universal Foods.