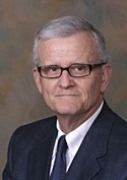 Awards
School of Medicine Distinguished Alumni Award (2009)
About Ronald D. Miller
Ronald D. Miller, M.D., was the former Chairman of the Department of Anesthesia and Perioperative Care at the University of California-San Francisco, serving from 1984 to June 2009.
Dr. Miller graduated from Indiana University School of Medicine in 1964 and began his anesthesia career with the US Navy in 1968 as a staff anesthesiologist. His transfusion research in Da Nang, South Vietnam earned him the Bronze Star with a combat V for Meritorious Service. After his military service, he joined the faculty of the University of California, San Francisco as Assistant Professor of Anesthesia and Pharmacology in 1970. Dr. Miller then was promoted to Associate Professor in 1974 and Professor in 1978, and later served as Vice Chairman of the Department of Anesthesia from 1982 to 1984 prior to becoming the Chairman of the Department of Anesthesia.
He is also a noted editor and author, having written "Miller's Anesthesia", which is regarded as the leading textbook of anesthesia in the world. Dr. Miller was also a co-editor with Robert K. Stoelting, M.D., on "Basics of Anesthesia". He has published over 170 peer review articles and served as editor-in-chief of Anesthesia & Analgesia from 1990 to 2006. Additionally, he received many national and international honors, has served as a member of the Institute of Medicine of the National Academy of Sciences since 1998, elected and an honorary member of the Dutch Society of Anesthesiology in 1986 and the German Society of Anaesthesia and Critical Care in 2005. Dr. Miller also acts as a fellow in the Royal College of Anaesthetists of the United Kingdom and the Royal College of Surgeons in Ireland. HIs past positions include the chair of the NIH Surgery, Anesthesia and Trauma Study Section, the FDA Anesthetic and Life Support Drugs Advisory Committee and the FDA Blood and Blood Products Committee.