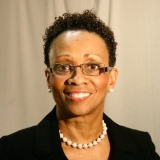 Awards
IUAA President's Award (2008)
IU Kokomo Distinguished Service Award (2005)
About C. Catherine Barnes
Although C. Catherine Barnes did not attend IU, she has been an active volunteer with the Alumni Association for a number of years, particularly with the IU Kokomo Alumni Association. She received her bachelor's degree from Purdue University.
Barnes was a board member for the national Neal-Marshall Alumni Club and has served as the Kokomo representative to its executive council. She also assisted with activating the North Central Indiana Chapter of the Neal-Marshall Alumni Club. Barnes has been active in projects such as the Old Ben 5K Run/Walk, Hoosiers for Higher Education Statehouse Day, Indiana Black Expo and the IUAA Student Study Task Force.
Barnes is an academic adviser and the coordinator of campus climate with the School of Arts and Sciences at IU Kokomo. She and her husband, Fred, live in Kokomo, Indiana.