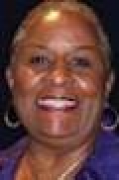 Awards
Bicentennial Medal (2020)
E. Ross Bartley Award (2012)

Bloomington, Indiana
Presenter: Michael A. McRobbie
About Janice Wiggins
Janice Wiggins has dedicated over 30 years in service to IU Bloomington, including serving as Senior Associate Director of the Career Development Center and Director of Career Counseling and Director of the Cooperative Education Program.
Wiggins graduated from Indiana University in 1971 with an A.B. in Psychology, and received a Masters of Science in Educational Psychology in 1975. She spent several years as an Academic Advisor on the Bloomington campus before turning to administration. In 1978, Wiggins was hired as the director of Cooperative Education on the Bloomington campus. This new initiative gave opportunities for students to be employed by businesses, government or non-profit agencies to gain work experience. She spent the next 15 years in a variety of administrative roles at IU, and in 1996, Wiggins became the fourth director of the Groups Program, which annually admits first generation, low income and physically challenged students to IU Bloomington.
In addition to her position as Groups Director, Wiggins has served as the Senior Associate Director of the Career Development Center at IUB since 1993. She has presented over 200 career development workshops in her time at IU, covering resume writing, interview training, job search strategies, networking and motivation in the work place. She has served her campus and community as an officer on dozens of boards, and is listed in Who's Who in the Midwest, as well as the National Distinguish Service Registry: Counseling and Development.
She has received numerous awards including the 2006-2007 IU Commission on Multicultural Understanding Staff Award, IU Division of Student Affairs Shoemaker Special Merit Award and; in 2004, Governor Joe Kernan bestowed upon her the Sagamore of the Wabash, Indiana's highest service award. Other awards include the Indiana Association of Women in Education Distinguish Service Award, the I-MAOEPP State Association's "LaVerta Terry Outstanding Service Award", and the MLK Building Bridges Award. Wiggins was a consultant to the Counseling and Psychological Division at Witwatersrand University in Johannesburg, South Africa.