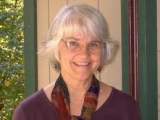 Awards
Thomas Ehrlich Civically Engaged Faculty Award (2013)
About Donna J. Eder
Donna Eder is Professor of Sociology at Indiana University. She earned her Ph.D. in 1979 from the University of Wisconsin.
She has written numerous journal articles and book chapters in the areas of gender, schooling, and women's culture. Her current research involves in-depth interviews with storytellers from different cultures to better understand the role of storytelling in teaching about social differences and social dynamics.Eder has a deep interest in the sociology of education—and in community. Her first major research study of adolescent peer culture, SCHOOL TALK: GENDER AND ADOLESCENT CULTURE, led to her creating a service project in the Bloomington schools, Kids Against Cruel Treatment in Schools. KACTIS became an essential part of her first service-learning course, Social Context of Schooling.
KACTIS revealed many social and ethical issues, launching Eder into more research, this time learning from Navajo and Kenyan storytellers how children can understand ethics and diversity through practices used in oral cultures. She borrowed non-Western concepts of learning as she crafted a service-learning project, Storytelling as Reflecting Time (START), which became the basis of a service-learning course, Knowledge and Community, taught to sociology majors and honor students.
The approach is so effective that Eder cannot accommodate all of the requests she receives for START, which is conducted both in the classroom and through extracurricular activities throughout Bloomington. She works with the Hutton Philanthropic Initiative, where students use storytelling to interact with community children in a meaningful way. Students in her Community Building Across Generations course take their storytelling to a nursing home and a program for children whose families are escaping domestic violence.
Eder also mentors other instructors on campus who are interested in service-learning.