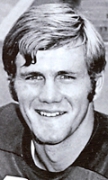 Awards
Z.G. Clevenger Award (2012)
About Daniel T. Lintner
Daniel (Danny) Lintner enrolled into Indiana University in 1969, and until his graduation in 1973 he was a Hoosier Icon. Danny was on both the Indiana Football and Track teams, playing Defensive Back, Running Back and participated in many sprinting events. He was heralded as football's next great after being named an All-Big Ten Defensive Back and played in the Senior All-Start Game in Hawaii and gained recognition in track after winning the Big Ten Indoor Track Championship while again earning All-Big Ten honors.
After his graduation from Indiana in 1973, Danny was drafted by the Philadelphia Eagles of the NFL. He played 2 years with the Eagles and then another with the Detroit Wheels of the World Football League (WFL) before finishing his playing career with the Hamilton Tiger-Cats of the Canadian Football League for an additional 2 years.
After his playing career concluded, Danny began a career in sales before founding his own business, Lintner Bowling Supply, in 1987. He could not stay away from his alma mater though, dedicating his services to the I Association serving as a board member.