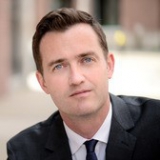 Awards
Grammy Award (2015)

Best Opera Recording
Performance: Charpentier: La Descente D'Orphée Aux Enfers
About Aaron Sheehan
American Tenor Aaron Sheehan, recognized internationally as a leading interpreter of baroque repertoire, is equally at home on the concert platform and the opera stage. He sang the title role in Boston Early Music Festival's recording of Charpentier's La Descente d'Orphée aux Enfers, which won Best Opera Recording at the 2015 Grammy Awards.
Sheehan made his professional operatic début with the Boston Early Music Festival (BEMF) as Ivan, in the world premiere staging of Mattheson's Boris Gudenow, a role for which Opera News praised his voice as "sinous and supple." He also performed leading roles in operas by Cavalli, Handel, Vaughan Williams, Weill, and Satie. Engagements have taken him to many major venues including the Tanglewood Festival, Lincoln Center, Concert Gebauw, Théâtre des Champs-Élysées, Gran Teatro Nacional del Perú, Beethoven Festival Warsaw, Boston Symphony Hall, Musikfestspiele Postdam Sanssouci, Royal Opera at Versailles, Washington National Cathedral, and the Early Music festivals of Boston, San Francisco, Vancouver, Houston, Tucson, and Washington D.C., as well as the Regensburg Tage Alter Musik. Sheehan also enjoys a reputation as a first-rate interpreter of the oratorios and cantatas of Bach and Handel and the oratorios and masses of Mozzart.
Sheehan's forthcoming performances include Orlando Orlando generoso with Boston Early Music Festival, Glaucus Scylla et Glaucus with Philharmonia Baroque, Demetrius Antiochus und Stratonica with Boston Early Music Festival, San Giovanni in Scarlatti's Oratorio a Quattro Voci with Berlin State Opera, and further performances of St. Matthew Passion, St. John Passion, and Messiah.
A native of Minnesota, Sheehan holds a B.A. from Luther College and an M.M. in early voice performance from IU.