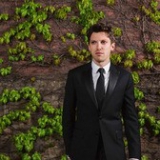 Awards
Grammy Award (2015)

Best Chamber Music/Small Ensemble Performance
Performance: In 27 Pieces- The Hilary Hahn Encores
About Cory Smythe
Pianist Cory Smythe has worked closely with pioneering artists in new, improvisatory, and classical music, including saxophonist-composer Ingrid Laubrock, violinist Hilary Hahn, and multidisciplinary composers from Anthony Braxton to Zosha Di Castri. His own music "dissolves the lines between composition and improvisation with rigor" (Chicago Reader), and his first record was praised by Jason Moran as "hands down one of the best solo recordings I've ever heard." Smythe has been featured at the Newport Jazz, Wien Modern, Trondheim Chamber Music, Nordic Music Days, Approximation, Concorso Busoni, and Darmstadt festivals, as well as at Lincoln Center's Mostly Mozart festival, where he was invited to premiere new work created in collaboration with Peter Evans and Craig Taborn. He has received commissions from Milwaukee's Present Music, the Banff Centre for the Arts, the Trondheim Jazz Orchestra, the International Contemporary Ensemble, of which he is a longtime member, and the Shifting Foundation.
Smythe works actively in new, classical, and improvised music. He has performed widely, making appearances as soloist and chamber musician at the Darmstadt International Festival for New Music, the Bang on a Can Marathon in New York City, the Green Mill Jazz Club in Chicago, and the Mostly Mozart Festival at Lincoln Center. In recent seasons, Smythe has played alongside violinist Hilary Hahn in concerts throughout the U.S., Europe, and Asia. A Washington Post review of the duo's performance at the Kennedy Center praised Smythe for "…the ferocity and finesse of his technique." Their Grammy-winning album, In 27 Pieces: the Hilary Hahn Encores, documents Hahn's diverse collection of newly commissioned encores for violin and piano.
Smythe holds degrees in classical piano performance from the music schools at IU and the University of Southern California, where he studied with Luba Edlina-Dubinsky and Dr. Stewart Gordon, respectively. He currently resides in New York City.