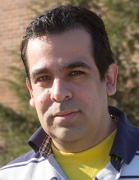 Awards
W. George Pinnell Award for Outstanding Service (2021)
President's Award for Distinguished Teaching (2017)
About Israel Fernando Herrera
A former soccer player, Israel Herrera knew he loved teaching his native language when he took a teaching methods course as an undergraduate college student at the Industrial University of Santander in Colombia. After earning his bachelor's in teaching foreign languages and literature, he came to the U.S. in 2003 as a Fulbright Teaching Assistant at South Dakota State University.
Although Herrera earned a master's degree in Hispanic literature from the University of Iowa, he wanted to study a subject related to Latin America that could include literature, cinema and human rights. Herrera earned a second master's degree at IU Bloomington's Center for Latin American and Caribbean Studies.
Teaching courses in Spanish conversation, Latin American film and even Spanish-language at the Kelley School of Business, Herrera is involved with a number of campus groups outside the classroom.
In 2011, he organized IU Bloomington's first Spanish and Portuguese Song Festival, where a selected group of students perform musical solos or duets in Spanish or Portuguese. He has also performed with Grupo de Teatro, Vision, Identity, Drama and Art, playing a number of lead roles in Spanish-language plays. He is currently the faculty advisor for VIDA. Since 2011, Herrera has served as president of the City of Bloomington's Commission on Hispanic and Latino affairs, advocating for Spanish-language courses in Monroe County elementary schools. He also hosts a weekly program on Bloomington Community Radio, called "Hola Bloomington," for which he won a 2012 Avant-Garde Award for his radio segment "Un Cafecito Con …"