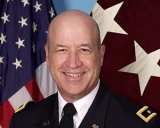 Awards
School of Medicine Distinguished Alumni Award (2017)
About James K. Gilman
Dr. James K. Gilman served as head of Walter Reed Health Care System, and has thus led medical research designed to improve the health and safety of troops.
Now retired from the U.S. Army, Dr. Gilman continues to serve his country as chief executive officer of the National Institutes of Health Clinical Center, the nation's largest hospital devoted to clinical research.
Dr. Gilman spent the latter part of his 35-year military career commanding the U.S. Army Medical Research and Materiel Command (military materiels and equipment). Materiel Command not only oversees supply chains for medical equipment, but it performs vital research such as regenerative medicine and stem cells to help with skin grafts. The Command also researches communicable diseases like malaria, dengue fever and man-made biological weapons that pose a threat to U.S. military personnel.
Dr. Gilman initially joined the Army for a simple reason: An ROTC Scholarship would make it possible for him to attend Rose-Hulman Institute of Technology. After earning a biological engineering degree, he attended IU School of Medicine, and graduated in 1978. He completed his residency in internal medicine and fellowship in cardiovascular diseases at Brooke Army Medical Center, based in San Antonio, Texas.
Between 1997 and 2000, Dr. Gilman served in a role equivalent to chief physician at two Army medical centers, Fort Hood and Fort Lewis. He was later named commander of an Army hospital in Alaska, the sole Army hospital in the state. By 2002, he was stationed in Washington, D.C., to serve in the Office of the Army Surgeon General. From 2004 to 2005, he ran Walter Reed Army Medical Center, managing the complex flow of wounded veterans coming back from combat in Iraq and Afghanistan.
Dr. Gilman returned to San Antonio as a Brigadier General to oversee Brooke and the Great Plains Regional Command. In 2009, he took over the U.S. Army Medical Research and Materiel Command, a post he held for three years until his retirement from the Army.
Most recently, Dr. Gilman served as executive director of the Johns Hopkins Military & Veterans Institute. Dr. Gilman has received numerous military awards and decorations, including the Distinguished Service Medal, Legion of Merit and Meritorious Service Medal.