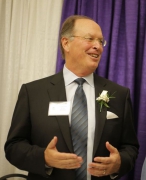 Awards
Z.G. Clevenger Award (2017)
About Bill Armstrong, Jr.
The son of former IU Foundation President Bill Armstrong Sr., Bill Armstrong, Jr. is a three-time letterman in both football and baseball at IU. Bill Armstrong Jr. was named Academic All-Big Ten in both sports. In 1974, Armstrong was the recipient of the IU Gimbel Award and the Bo McMillin Award.
Now a retired orthopedic surgeon in Atlanta, Armstrong was chief medical officer for aquatic sports at the 1996 Olympic games. He also served as the team orthopedic surgeon for Georgia Tech and Kennesaw State universities.
Armstrong played tight end and flanker for the Hoosier football team and was the first baseman and designated hitter for its baseball team. Armstrong earned both of his degrees at IU - a bachelor's degree in biology in 1974 and medical degree in 1978.