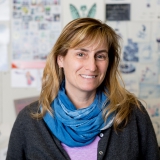 Awards
Fulbright Award (2017)

Scotland
About Nicole Jacquard
Nicole Jacquard is an associate professor of Metalsmithing and Jewelry Design in the IU School of Art, Architecture and Design. Nicole Jacquard received her B.A. from Indiana University. She earned her first master's in Fine Arts from the University of Michigan. She then received her second master's from RMIT University in Melbourne, Australia, during her year abroad on a Fulbright Fellowship.
Nicole received her Ph.D in 2004 in Fine Arts from RMIT with her concentration on integrating CAD/CAM and RP&M into her studio practice.
She has traveled to Scotland on a Fulbright to research visual cues captured in historical Scottish artifacts.