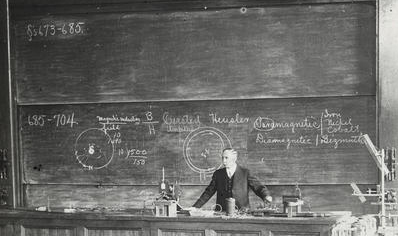 Awards
National Academies (1900)

American Association for the Advancement of Science
About Arthur Foley
Arthur Lee Foley was born in Hancock County, Indiana on February 22, 1867 to Mansfield Calvin Foley and Clara Alice (Myers) Foley. He attended Central Normal College in Danville, Indiana for two years and Hayward College for one year before receiving his B.A. in 1890 and M.A. in 1891 both from Indiana University Bloomington. He received his Ph.D. in Physics from Cornell University in 1897. He later spent one year at the University of Berlin in 1908 and received an Honorary Doctorate of Laws from Central Normal College in 1941.
Foley was interested in radiation and wave phenomena and also investigated radio waves and sound waves. He was an instructor of physics at Indiana University from 1890-1891, associate professor from 1891-1897, and professor and department chair from 1897-1937. In 1917, he became the first recipient of a professorship in the Luther Dana Waterman Institute for Research at Indiana University, where he studied acoustic phenomena. He retired from IU in 1937.
Foley worked on theories of sound amplification, leading to patents for the ideal shapes of horns for musical instruments and for the optimum placement of locomotive whistles. He authored the textbook College Physics in 1933 and more than 70 scientific articles, nearly one third of which were about sound. His research was funded by the Elizabeth Thompson Science Fund, the American Academy of Arts and Sciences, the American Association for the Advancement of Science, Riverbank Acoustic Lab, and numerous industrial companies.
He was inducted into Phi Beta Kappa at Indiana University, was a fellow of the Indiana Academy of Science, the American Acoustical Society, the American Association for the Advancement of Science, and the American Physical Society. He was a starred man in American Men of Science and held two patents.
Foley played significant roles in building the Indiana University campus in Dunn's Woods. He was a member of the 1909 committee that recommended building a reservoir to deal with the University's chronic water shortage, and was architect and engineer for constructing the reservoir dam in 1910. He was architect and superintendent of construction for two power plants and connecting tunnels to supply steam, electricity, and telephone service to the new buildings. He was architect and superintendent of construction for the Well House (1906) and for a 1907 addition to Maxwell Hall. He was superintendent of construction for the Student Building (1906), the Library (1907), and Biology Hall (1910). He directed improvements in the acoustics of Assembly Hall in 1916–1917.
The Foley House Basement Key Award is given to an Indiana University School of Optometry alumnus for excellence in the field of optometry. Arthur Foley's former house served, beginning in 1959, as the IU optometry clinic. The basement served as a gathering place for optometry students, each given a key to Foley House. When Foley house was being demolished, the basement door was salvaged. That door, preserved and revered, now bears the name of each recipient of the Foley House Basement Key Award, and resides in the hallway of the Optometry Building. Foley died February 13, 1945.