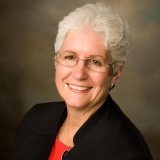 Awards
President's Medal for Excellence (2022)

Presenter: Pamela Whitten
Bicentennial Medal (2019)
About Kathryn Girten
Kathryn Girten was the sixth chancellor of IU East and professor of anthropology in the School of Liberal Arts, IUE. She also served as the acting chancellor of IUS during the 2021-2022 school year. Girten earned her A.B. from Middlebury College, A.M. and Ph.D. in anthropology from the University of Chicago. She spent much of her career (1989-2007) at Northern Arizona University in Flagstaff, AZ as a faculty member and then as dean of the College of Social and Behavioral Sciences. Prior to coming to Indiana, Girten was provost and vice president for academic affairs at California State University, Monterey Bay (2007-2013). Her academic area of expertise is the analysis of animal bones from archaeological sites, and she conducted field and laboratory research in South Africa for more than twenty years.
Community involvement is important to Girten, and she has served on several boards in both Monterey and Flagstaff, and in Indiana. She served on a variety of boards including the Wayne County Area Chamber of Commerce, Reid Health, and the Wayne County Foundation. She was married to Dr. Eugene Cruz-Uribe for 36 years when he unexpectedly passed away in March 2018. In March 2020, she married Gary Girten, a retired bank examiner and Marine Corp veteran from Dayton, OH.
Girten received the IU Bicentennial Medal in August 2019 in recognition of her distinguished service as chancellor of Indiana University East. In May 2022, President Whitten presented her with the President's Medal for Excellence during the IUE commencement.