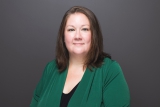 Awards
Distinguished Service Medal (2021)

Presenter: Michael McRobbie
Bicentennial Medal (2019)
About Kelly A. Kish
Kelly Kish currently serves as the Associate Chancellor of the University of California, San Diego. She leads key strategic initiatives for the campus and acts as chief advisor to the chancellor and his leadership team. Kish provides broad scope research and analysis, communication development and consultation to complement and enhance the strategic objectives of the chancellor. She also works closely with the Executive Vice Chancellor, Vice Chancellors, Associate Chancellor/Chief of Staff and members of the Chancellor's cabinet to address and resolve issues that affect the success of the Chancellor's initiatives.
Kish earned her bachelor's degree from the University of Maryland, College Park, M.S. and Ph.D. in Higher Education from Indiana University. Previously, Kish was Assistant Vice President for Faculty Advancement in the Office of the Vice President for Research at Indiana University. In this role she oversaw efforts to identify the right faculty for the right research opportunities and engaged IU supporters and alumni in key faculty initiatives. She previously served as Deputy Chief of Staff to the President of Indiana University and as the Director of the Indiana University Bicentennial. Kish's research focused on the history of higher education and higher education administration. She has done significant research on the history of Indiana University and is an expert in the administration of IU President William Lowe Bryan (1902-1937).
Kish received the IU Bicentennial Medal in August 2019 in recognition of her distinguished service as Deputy Chief of Staff in the Office of the President and Director of the IU Bicentennial. Kish was further recognized in 2021 with the Distinguished Service Medal for her sustained distinction, notable accomplishments, and other contributions to Indiana University.