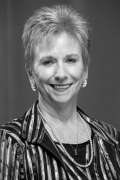 Awards
Distinguished Service Medal (2021)

Bloomington, Indiana
Presenter: Michael A. McRobbie
Bicentennial Medal (2019)
About Deborah A. Lemon
Deborah A. Lemon is an IU Bloomington alumna, earning a B.S. in marketing management and small business management. She also served as Secretary of the IU Board of Trustees 2013-2021.
During her undergraduate career Lemon was a member of the Delta Delta Delta sorority, participated in the first dance marathon, and was on the Mini-Trike Committee of the IU Student Foundation and a rider in the Mini 500. She was also elected to Beta Gamma Sigma honor society. After graduation she worked for the American Hospital Supply Corporation, where she was the top regional sales representative in 1981. In 1987 she joined the Bloomington/Monroe County Convention and Visitors Bureau until 1991. Lemon returned to IU in 2004 first as director of Hoosiers in Higher Education, then as deputy executive director of the IU Alumni Association. In 2013 she was appointed as Secretary of the IU Board of Trustees and she retired from that position in 2021.
Lemon is an exemplary member of the Bloomington community serving a variety of community and civil organizations. Some of these include the Bloomington Parks Foundation (1990-present, president, 2017-present), IUSF Board of Associates (1986-2018), Hoosiers Outrun Cancer (steering committee, 2000-2013), Bloomington Hospital Foundation (2000-2011, president, 2009-2011), and the Bloomington Hospital Board (1992-2000, president, 1998-2000). She currently serves as Vice President of the Bloomington Health Foundation. She has also served in the following organizations: American Red Cross of Monroe County (president), Girls Incorporated of Monroe County, Local Council of Women, Colloquium of Women of Indiana University (co-chair), Salvation Army Kettle Kick-off (chair), Bloomington Country Club (president of the board). She has received several awards in recognition of her outstanding service including: Women Excel Bloomington (WEB) Award, presented by the Bloomington Chamber of Commerce (2017); the Agape Award, presented by the Local Council of Women (2001); the Distinguished Leadership Award, presented by Leadership Bloomington-Monroe County (1988); Exceptional Management Service Award, presented by the American Red Cross (1992); and being named Outstanding Board Member by the Bloomington Volunteer Network (1995).
Lemon received the IU Bicentennial Medal in September 2019 in recognition of her distinguished service as secretary of the IU Board of Trustees. In August 2021, Lemon received the Sagamore of the Wabash Award, one of the highest honors that the Governor of Indiana may bestow.