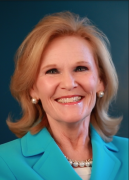 Awards
President's Medal for Excellence (2022)

Indianapolis
Presenter: Pamela Whitten
Bicentennial Medal (2020)
About Teresa Lubbers
Teresa Lubbers is an IU alumnus and served as the Commissioner for the State of Indiana's Commission for Higher Education. Lubbers earned a B.A. in English from Indiana University and a Master's in Public Administration from the Kennedy School of Government at Harvard University.
Lubbers was appointed in 2009 to serve as Commissioner for Indiana's Commission for Higher Education, the coordinating agency charged with ensuring the state's postsecondary education system is aligned to meet the needs of students and the state. Lubbers left this role at the conclusion of the 2022 legislative session after more than 12 years of service. She is currently the nation's longest serving State Higher Education Executive Officer (SHEEO), and has dedicated nearly three decades to supporting and working on behalf of Indiana's students, schools, and economic and workforce needs. Prior to joining the Commission, Lubbers served in the Indiana State Senate for 17 years, leading on education and economic development issues as Chair of the Senate Education and Career Development Committee. As Commissioner, Lubbers has worked to increase college completion, ensure academic quality and student learning and align postsecondary credentials with meaningful careers. She partners with policymakers and higher education leaders to develop and implement the state's higher education strategic plans, including the Commission's recently adopted fourth plan, "Reaching Higher in a State of Change."
Lubbers is a past chair and a current member of both the State Higher Education Executive Officers and the Midwestern Higher Education Compact. She serves as Chair for both the National Council for State Authorization Reciprocity Agreements and Higher Learning Advocates Board of Directors. Additionally, she serves as a Commissioner for both the Education Commission of the States and the Postsecondary Value Commission, a member of the Advisory Council for both the Council for Adult and Experiential Learning and the Level Up Advisory Council and as the Chair of Indiana's Governor's Workforce Cabinet. Lubbers is past chair and current member of the YMCA of Great Indianapolis and Chair of the YMCA Foundation. She is the co-founder of the Lugar Excellence in Public Service Series.
Lubbers received the IU Bicentennial Medal in January 2020 in recognition of her ongoing support of Indiana University. In February 2022, Lubbers was awarded the President's Medal of Excellence, in honor of her distinguished contributions to higher education and the university.